Decarbonization goals drive heat pump technology adoption
Advancements in technology, government mandates spur interest in energy-efficient solutions.
By Nicole Krawcke
Lync's Aegis A commercial CO2 heat pump water heater produces hot water up to 170° F at air temperatures as low as -4° F with no need for supplemental heat, the company says. Lync is a Watt's brand.
Heat pump technology is becoming increasingly recognized as the way forward to achieve decarbonization goals. According to a 2022 report by the International Energy Agency, while 190 million heat pump units were in operation in buildings worldwide in 2021, heat pumps still only meet about 10% of the global heating need in buildings — below the deployment level required to get on track with Net Zero emissions by 2050. Which leaves lots of opportunity for growth in this market.
The plumbing and HVACR industry has seen a spike of interest in heat pump adoption. Heat pumps are definitely on a growth trajectory, and a great deal of innovation is helping propel that into the future, according to David Lopes, director of commercial sales for North America for Bosch Thermotechnology.
"Aside from the fact that heat pumps are fundamentally efficient and soundly effective, there is the promise that heat pumps can help provide a clean future for all of us," he says. "As such, the reduction in emissions is a major driver for adoption around the world. Heat pumps are more than just a fully electric solution. By using the heat pump cycle, they can deliver three to five times more heat energy than the electrical energy they consume. This is vastly more efficient than leveraging direct electrical resistance for heating water, for example."
Many states, cities and municipalities are establishing decarbonization goals, and heat pumps play a major role in achieving these goals for commercial buildings, notes Zachary Everett, field sales engineer at Daikin Applied.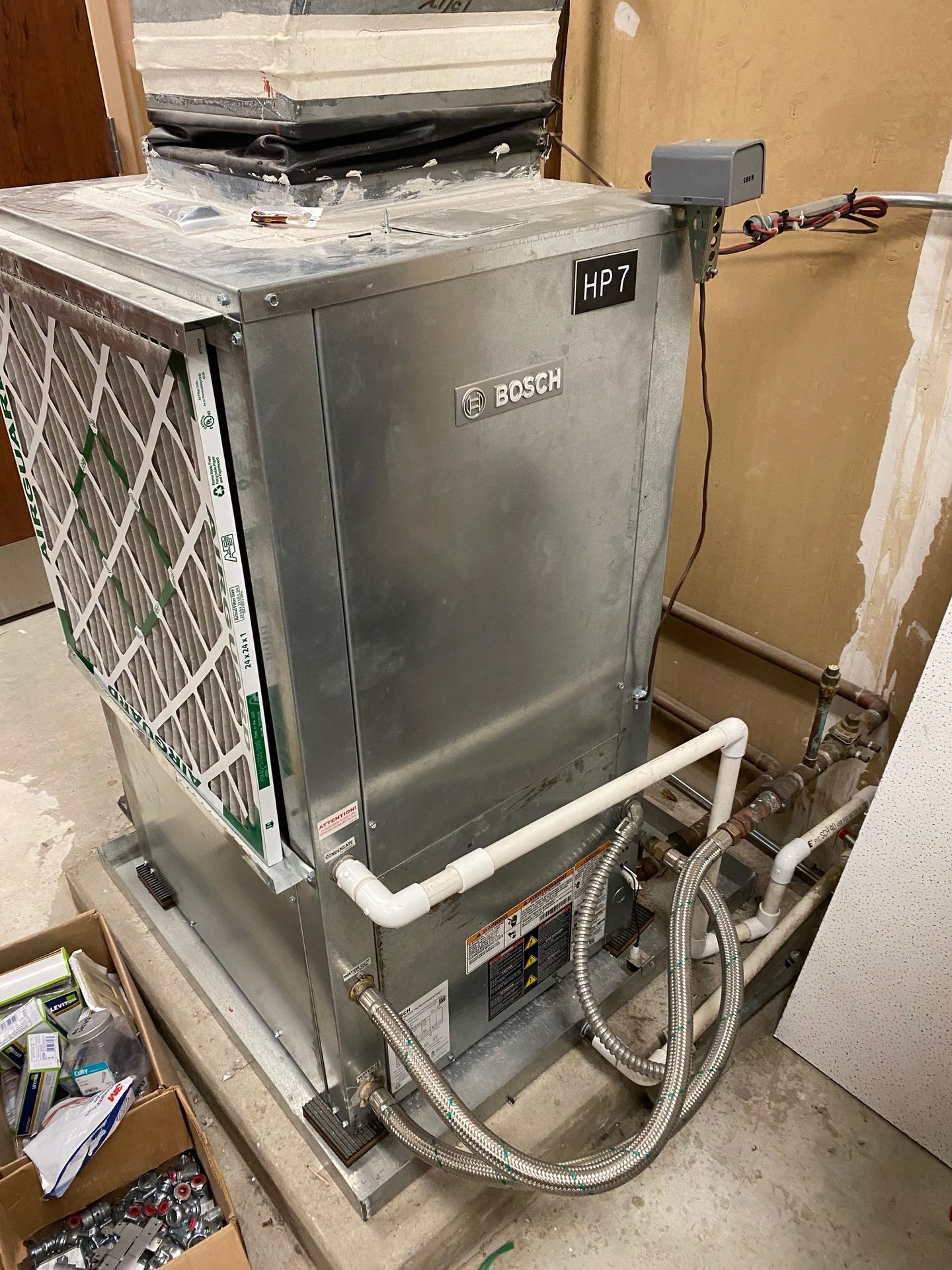 A Bosch LV model water-source heat pump is installed in a large regional medical center. The product comes standard with a unique sound package designed to eliminate vibration transmission to the cabinet and reduce noise in the occupied space.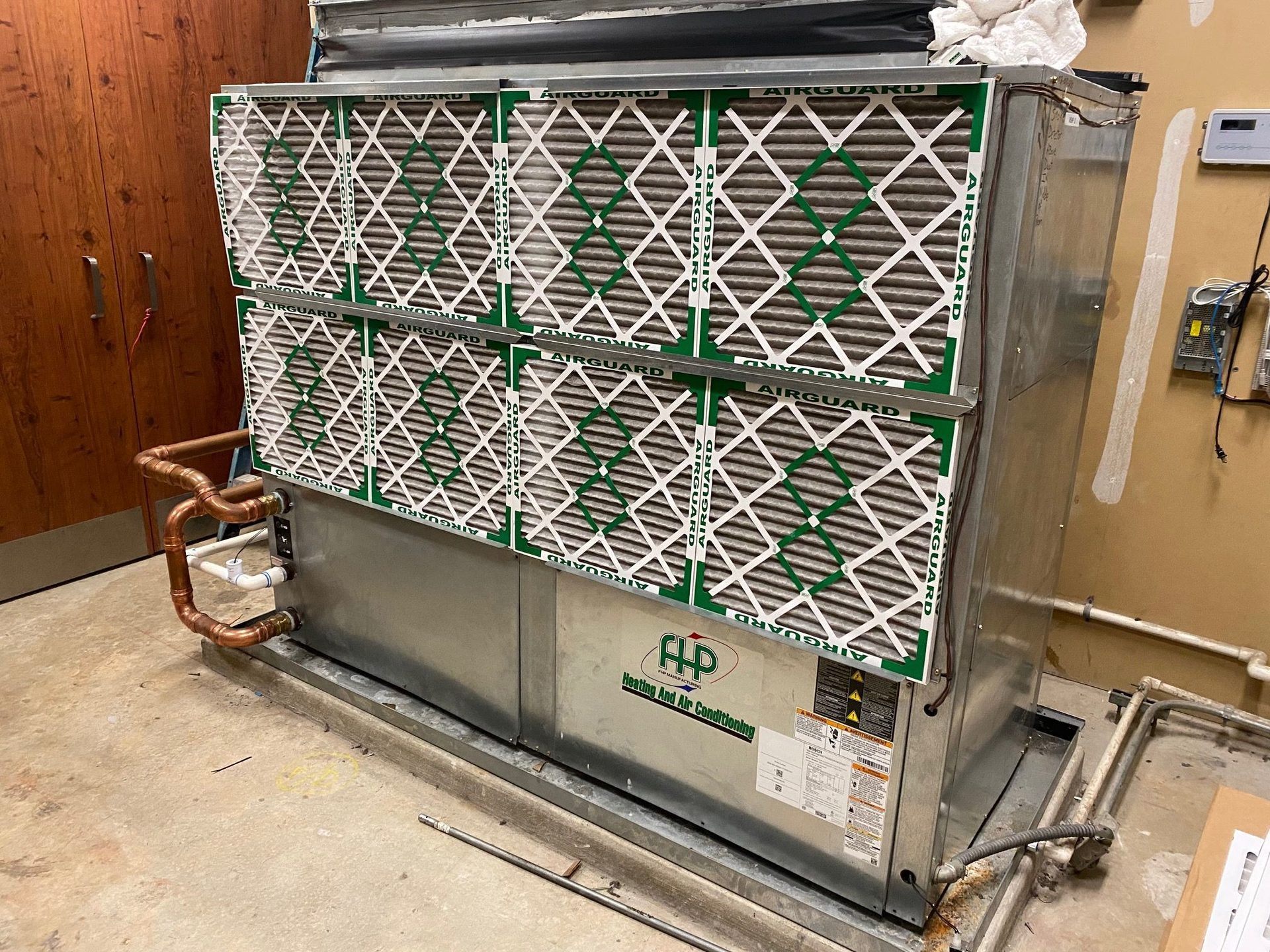 A large regional medical center installation of Bosch water-to-air heat pump. The EC model provides state-of-the-art heat pump technology with high performance, efficiency and safety for commercial applications, Bosch says.
"Additional drivers for commercial heat pump market growth are utility-sponsored rebates for high-performance heat pump systems and legislation at all levels such as the CLCPA and CMA in New York state and New York City, respectively."
According to Eric Conner, trainer, commercial growth – California Region, Rheem Mfg. Co., adoption of heat pump technology is primarily driven by mandates and incentives. "Many engineers are specifying heat pumps as they are the only approved option in several areas across the country."
Another driver of growth in this segment is the technological advancements in the products themselves, explains David Rames, senior product manager, Midea America Corp.
"While heat pumps have existed for years in residential applications, huge strides have been made in inverter technology, making today's most cutting-edge models attractive for commercial contractors to recommend to facility managers as an alternative to what they have been using for years," he says. "The main benefits of installing a heat pump in a commercial building include high efficiency at low temperatures, reduced carbon emissions and energy use, and only needing one system to provide both heating and cooling capabilities."
Heat pump water heaters are another segment growing rapidly, notes Matt Blocker, regional commercial sales and product manager, Mitsubishi Electric Trane HVAC US (METUS).
"From our experience, the majority of demand has been based on the need to transition from fuel-burning boilers," he says. "State and local legislations have implemented codes and standards meant to reduce emissions and increase decarbonization, which are helping to drive heat pump adoption in the commercial market. Many states and hundreds of cities have committed to reducing greenhouse gas emissions. Commercial heat pumps, like VRF systems, help building owners meet sustainability requirements while reducing operating costs and improving occupant comfort. Heat2O, the new hot water heat pump system from Mitsubishi Electric Trane HVAC US (METUS), will help reduce emissions and improve sustainability in applications requiring high-volume domestic hot water."
Lochinvar also recently launched its new Veritus air-source heat pump water heater at the AHR Expo in February.
"We've continued to see growth in the commercial air-to-water and water-to-water heat pump market in recent years," says Jennifer Russell, segment development manager, Lochinvar. "A desire to reduce greenhouse gas emissions is the primary driving factor for the adoption of heat pump technology. Heat pumps offer advantages like lower power requirements and significantly higher efficiencies than electric resistance products, making them an excellent choice for anyone looking to reduce greenhouse gas emissions."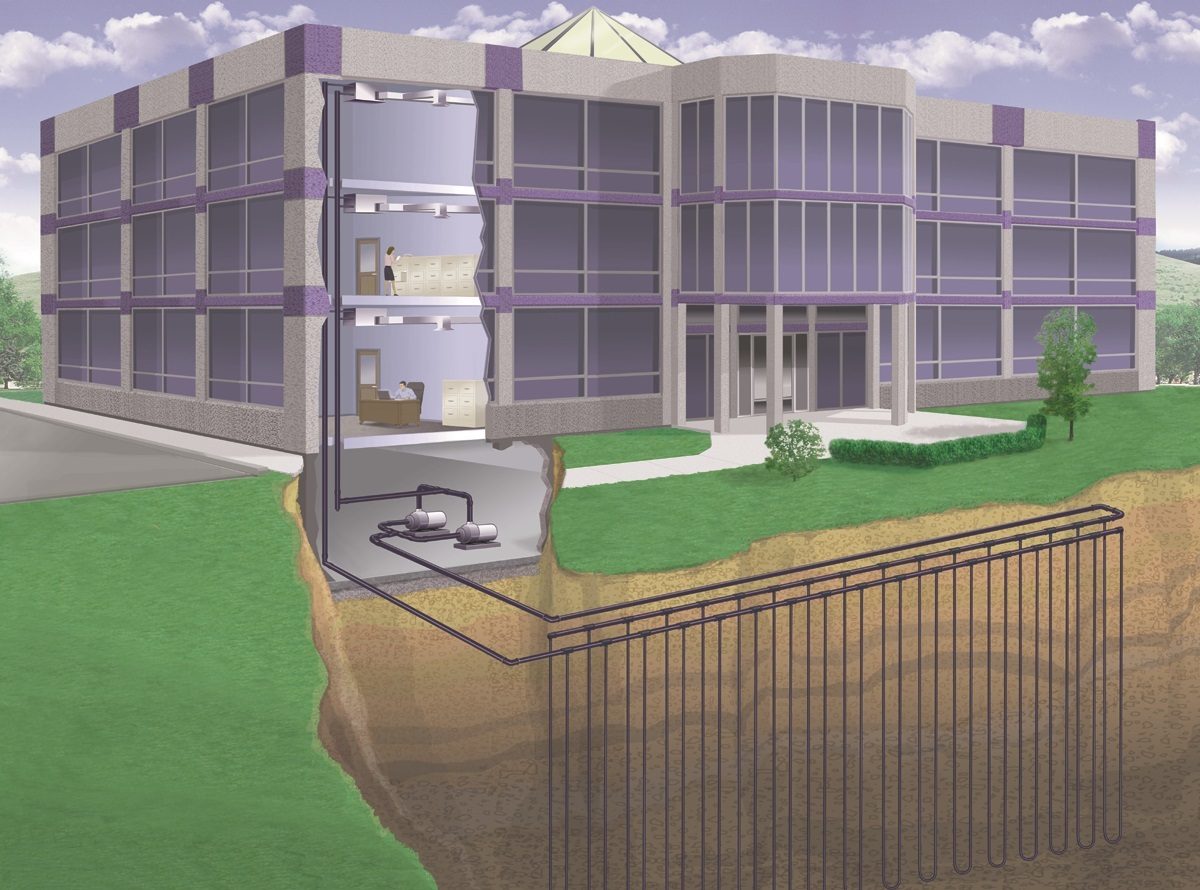 A rendering of a geothermal system with heat pumps.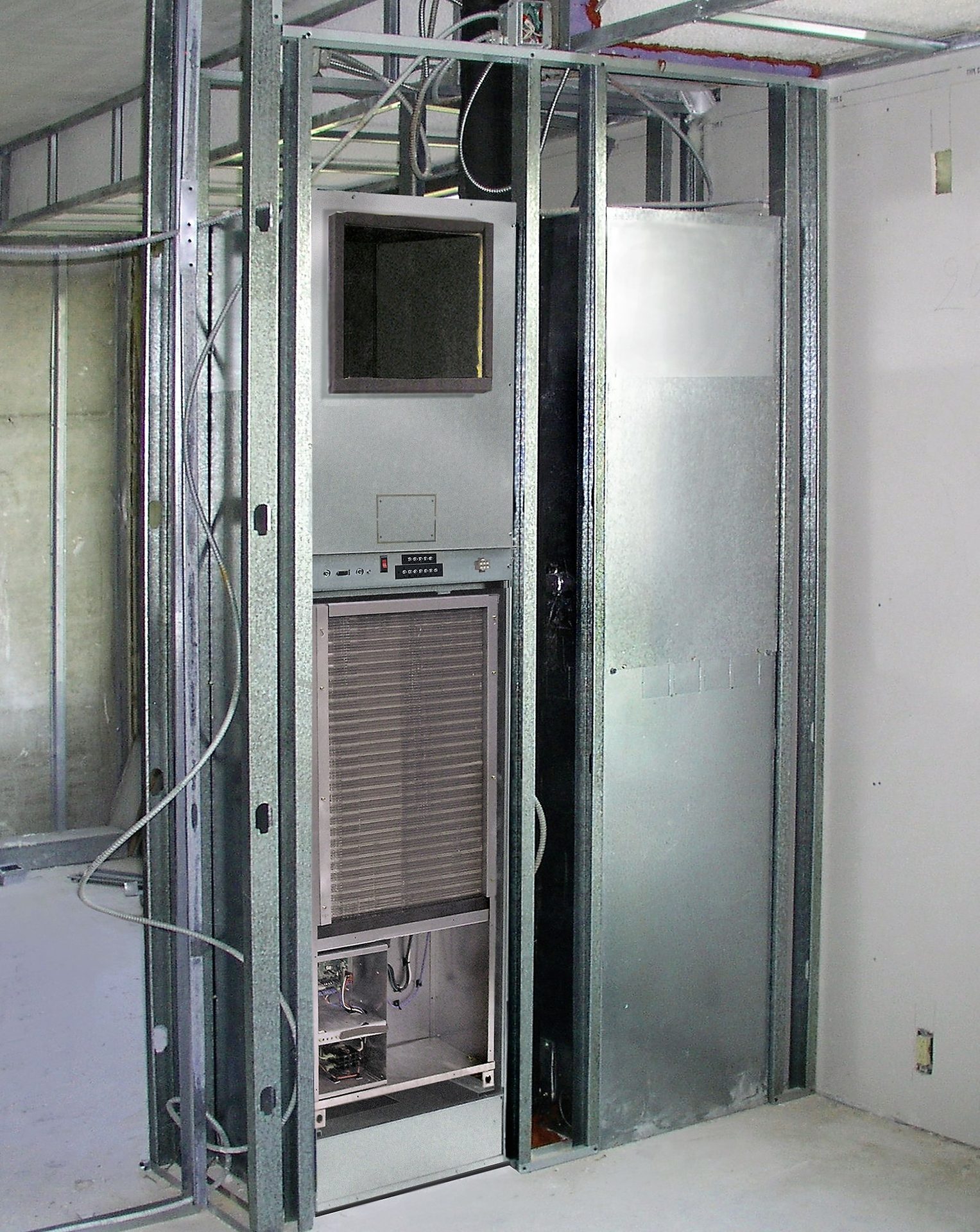 A Daikin water-source heat pump is installed in a commercial application.
Meeting decarbonization goals
As noted above, heat pump technology is increasingly attractive because of its ability to help meet decarbonization goals.
"Heat pumps collect existing ambient warmth from a low quality (i.e. temperature) source and transform it to a high-quality (i.e. usable) heat rather than directly producing the energy," says Andrew Macaluso, product manager, system solutions, Watts Water Technologies. "The result is much less electricity is used. In fact, as long as the energy source is free, the heat pump will appear to be more than 100% efficient.
"The use of heat pumps with natural refrigerants, such as R-744 (CO2), are beneficial to meet decarbonization goals," he continues. "Heat pumps that use R-744 have a global warming potential (GWP) of 1, which is miniscule compared to other common refrigerants. They also have an ozone depletion potential (ODP) of 0.0. More importantly for end users, the properties of R-744 as a refrigerant enable these types of heat pumps to deliver higher output temperatures to enhance operational and efficiency benefits, as well as operate at a wider ambient temperature range. This makes the heat pump technology a reliable and efficient solution in parts of the country with a cooler climate."
Everett notes that in many cities, the electrical grid is sized for peak demand in the summer, leaving untapped capacity in the winter as heating has predominantly been provided via the burning of fossil fuels. "Applying heat pumps can help the grid in two ways. First, heat pumps are highly efficiency cooling systems that can reduce summer peaks when replacing less efficient cooling systems. Second, electrifying heating systems helps to drive the winter peak closer to the summer peak yielding a more balanced grid."
Matt Baranuk, segment development manager, A. O. Smith, agrees, noting that commercial heat pump water heaters are a zero-carbon solution with enhanced efficiency when compared to traditional gas and electric water heaters. "If we have a heat pump unit with a COP (coefficient of performance) of 4.0, then that unit is producing four units of heat for every one unit of electricity consumed — a tremendous increase in efficiency, decreasing the energy usage required for operation."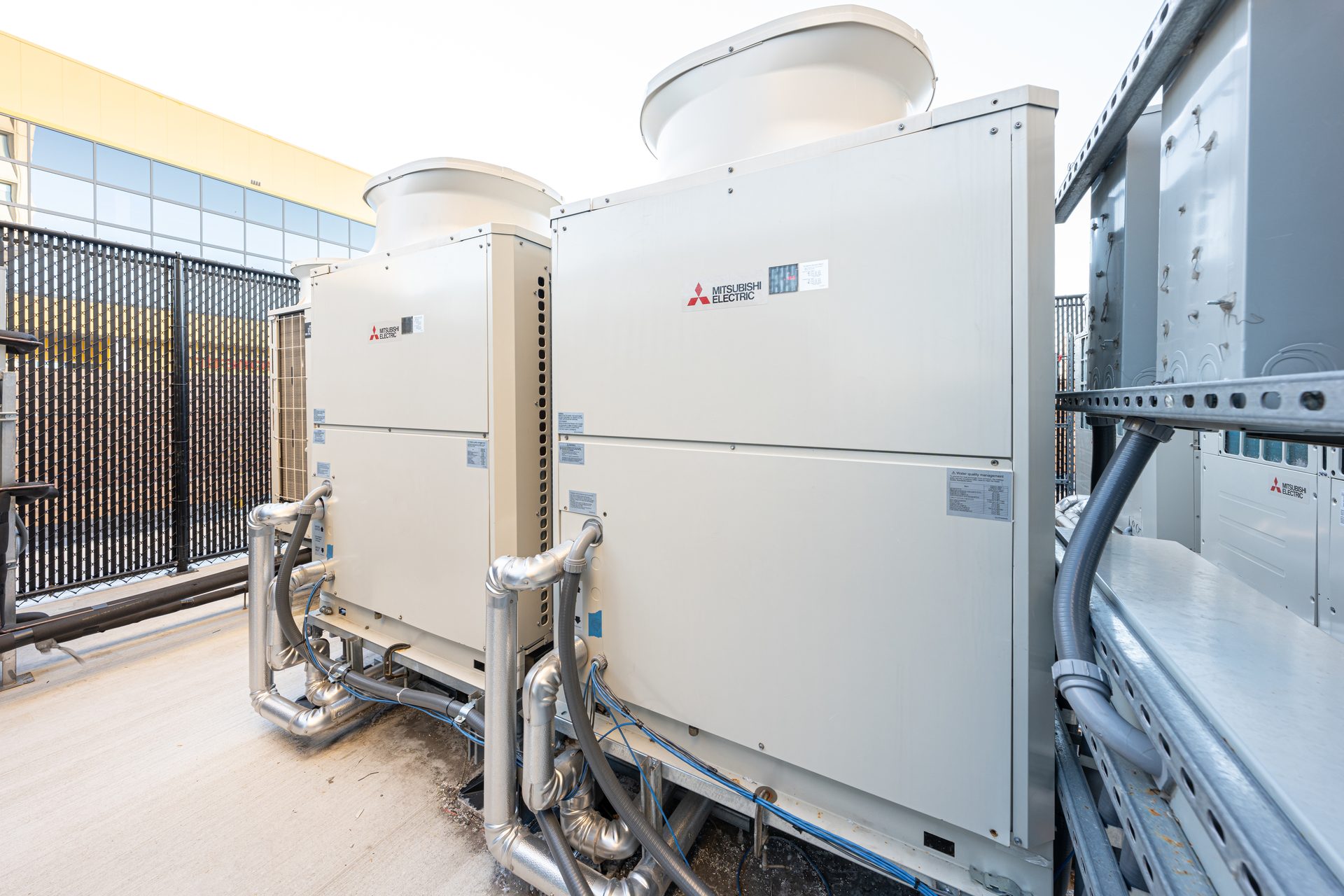 This Mitsubishi Electric Heat2O Heat Pump Water Heater supplies domestic hot water for the 165 guest rooms at Hotel Marcel, New Haven, Connecticut. Hotel Marcel is on track to be the first all-electric, solar-powered, LEED Platinum-certified, net-zero carbon hotel in the United States.
Carrot or stick?
While the federal government along with an increasing number of state governments are adopting decarbonization policies — the stick approach — there are also a number of financial incentives available for adopting heat pump technologies, offering a sweeter allure for building owners.
"They vary quite a bit state by state," Lopes says. "We have seen more incentives for upgrading existing buildings, but there are starting to be more programs targeting new construction coming online all time, such as those recently getting attention in New York and Washington. The new Inflation Reduction Act also supports the adoption of these technologies. Of all the green technologies, such as solar and others, heat pumps are starting to be top-of-mind and part of the strongest incentives because of the wide range of applications of where heat pumps fit."
Blocker notes that while there are no "broad sweeping federal incentives for installing a heat pump water heater, systems like Heat2O may help buildings qualify for 179D or 45L tax credits under the Inflation Reduction Act by improving energy efficiency in commercial facilities and newly constructed multifamily buildings."
Additionally, available rebates, incentives and tax credits help reduce upfront costs and enhance ROI for business owners, Conner points out. To help identify rebates, Rheem has created an easy-to-use Rebate Center on its website.
Best uses for heat pump technology
According to Rames, heat pumps are an excellent fit for most commercial and industrial settings because of the massive savings potential.
"Consider an office building built 10 to 20 years ago with one 20-ton unit on its roof," he explains. "On hot days, the compressor will run periodically to condition inside air to a set temperature. The unit shuts off at the desired temperature, then turns back on once the inside temperature rises. The system is loud and unpredictable, disrupting the work environment. 'Off' periods yield spikes in temperature and humidity, and the constant on/off cycling generates a surplus of wasted energy.
"Now consider the same office space integrated with multiple 5-ton inverter technology heat pumps — which have higher SEER (Seasonal Energy Efficiency Ratio) ratings to begin with — along with an indoor air handling unit (AHU) working in tandem with custom selected multi-split heads," he continues. "This space has now completely transformed in terms of widespread comfort, more consistent humidity control, longer unit life (20 years versus 10 as the AHU is located within the conditioned space of the building versus being exposed to the elements on the roof), fewer roof penetrations and increased energy efficiency; all leading to lower utility bills and long-term cost savings. With the ability to feature multiple thermostats and zones to offer tailored control to rooms with different purposes – such as storage rooms, conference rooms and offices – advanced multi-zone cold climate heat pump systems with inverter technology offer engineers and contractors an alternative to typical commercial HVAC solutions."
Russell explains that every application is unique, and there will be some applications where it is more difficult to apply heat pumps than others.
"For example, a retrofit application in a building that was designed for a gas system may not have the electrical infrastructure or space to support the full conversion to a heat pump system," she says. "Additionally, colder climates can be a challenge for air-to-water heat pump applications, especially for hydronic heating where the highest water temperatures and capacity are needed during the coldest days. With that in mind, there are great hybrid approaches to these systems that still allow for greenhouse gas reduction such as utilizing high efficiency gas or electric boilers for peak system demands with a heat pump base load."
Russell adds that Lochinvar is seeing a big push for heat pump water heaters in the commercial water heating space, especially in multi-family projects.
Blocker agrees, noting that heat pump water heater systems can work in many commercial or multi-family applications. "For Heat2O, we're seeing significant interest from professionals designing systems for multi-family, educational, large office and gym applications. METUS currently offers Heat2O for Domestic Hot Water, but we intend to employ additional technologies to help support decarbonization and electrification goals in the U.S. marketplace."
Macaluso also agrees with Russell regarding the increase in hybrid systems.
"Another application that is gaining favor is a hybrid heat pump and gas-fired solution that can rely on the more efficient heat pump as the primary heat source and utilize the traditional gas-fired equipment as backup or only during peak demands," he says. "This provides for a significant reduction in carbon emissions while still providing a cost-effective backup option. This solution is only applicable to projects that still allow for gas-fired equipment and is obviously not viable for projects with a goal of total electrification of the heating or hot water plants."
Midea launched its EVOX Multi-Zone System in the U.S., featuring a line of inverter technology heat pumps. Designed specifically with HVAC engineers, technicians and building owners in mind, this system provides flexible and affordable product and system combinations that can seamlessly mix and match ducted and ductless configurations across multiple applications with up to five zones per heat pump, the company says. Due to its flexibility in single or multi-zone applications, the system also works with any floor plan.
Considerations for engineers
With the growing popularity of these systems, just about every manufacturer is introducing a heat pump product. So how can engineers know they are specifying the right product for their system design?
"Not all heat pumps are alike," Lopes says. "When recommending a heat pump system, the two most important considerations are the location/outdoor climate and the type/configuration of building the system will be used in. For example, some heat pumps have limitations when it comes to vertical height difference between the indoor and outdoor units. Buildings that are two or three stories tall can use a variety of systems, including those that use refrigerant or water to transfer energy back and forth. Taller buildings should more strongly consider water-source heat pumps. The main reason is the physical limitations of the systems that would not allow for such vertical distances. Additionally, if there is a leak in the refrigerant, it could lead to a major health issue, which is part of the reason why the EPA plans to ban the use of many HFCs in new air conditioners and commercial refrigeration equipment and put a 700-GWP (Global Warming Potential) limit on the use of refrigerants in new residential and light commercial air-conditioning and heat pump systems starting in 2025."
Rames notes that in light commercial applications, multiple 5-ton residential heat pumps could replace single large rooftop units. "When coupled with a mix of Midea's EVOX AHUs and ductless indoor units, the multi-split configuration offers a more versatile multi-zone system to maximize comfort, promote energy savings and reduce costs. The upfront cost of switching to a high-quality inverter technology heat pump system will pay off quickly as energy bills decrease and happy customers return – all while contributing to an energy transition that will benefit our planet."
Two important considerations MEP engineers should consider are wide ambient operating conditions and lower temperature limit, according to Macaluso.
"Domestic hot water (DHW) systems featuring heat pumps with wide ambient operating conditions can provide a high coefficient of performance (COP) throughout the year," he says. "COP is important for efficient operation, as it is the ratio of heat or cold the heat pump generates compared to specific energy input. A lower temperature limit allows the heat pump to fully operate down to air-source temperature as low as -4° F or water-source temperature as low as 18° F to reduce non-operating spans.
Macaluso also notes that it's important to recognize early on that decarbonization comes with an additional upfront cost. "If this expectation is set properly, the unique economic and environmental benefits of heat pump technologies as they pertain to better performance, reduced carbon footprint, lower operating cost and ability to meet future legislation will be easy to justify."
When specifying heat pumps for commercial hydronics or water heating, MEP engineers should consider climate, electrical requirements, footprint and capacity, Russell points out. "For heat pump water heating and hydronics, water storage can play a major role in the system's performance and cost. To maximize system performance and keep upfront costs down, it's critically important to ensure that the right balance is developed between heat pump capacity and storage capacity."
While heat pump technology isn't new, its rapid adoption into the commercial water heating segment has created a whole new series of challenges for MEP engineers, according to Baranuk
"One of the most important factors for MEP engineers to consider when specifying heat pumps for commercial use is the geographic region that the unit will be installed in, as things like ambient air temperature and air exchange are critical to the function and efficiency of heat pumps," he says. "A. O. Smith and Lochinvar stand ready to assist MEP engineers with expert assistance in sizing and recommending the right equipment to best serve their client's needs and budget."
Conner suggests that engineers consider ambient air and water temperatures on location to properly determine Btu needed when specifying heat pump water heaters. "Heat pumps work most efficiently at temperatures above 40° F to capture waste heat and provide free bonus cooling. Also, consider a pre-heat for lower-efficient equipment and ensure proper storage tank size for the building's water usage. If you use a unit like Rheem's Commercial Heat Pump Water Heaters Split Systems, they feature elements such as an automatic defrost and electric tank back-up for lower temps, to ensure solutions to potential challenges are built in."
Blocker adds that engineers should also pay attention to recirculation design/losses, elevation considerations and local codes. "METUS has an entire team of professionals devoted to ensuring every Heat2O installation is a success."
There's no doubt that heat pump technology is important for our future climate goals, Everett points out that MEP engineers should not forget about other elements of design.
"While heat pumps play a major role in decarbonization efforts, it's important to consider building envelope improvements, demand response, energy storage and load shifting for holistic electrification."
Nicole Krawcke, is chief editor of PM Engineer.