Commercial water heating market moves toward electrification
Manufacturers talk trends and design considerations for commercial water heating.
By Nicole Krawcke
According to Bradford White's Dennis DeBlock, traditional commercial water heaters are still the preferred product for new construction with specifiers leaning towards high-efficiency gas or a bank of heavy-duty electric tanks.
Last year, Washington became the first state in the country to mandate all-electric space heating and hot water systems in newly constructed buildings. Starting on Jan. 1, 2024, gas furnaces and water heaters will not be allowed in new commercial and multifamily construction in the city of Denver, and in 2025, the city will no longer issue permits for certain types of gas heating and cooling systems for existing commercial and multifamily buildings. As more and more cities and states seek to follow suit in order to reduce greenhouse gas emissions, it's clear that regulatory activity is clearly driving the push to electrification and decarbonization.
"There are several challenges when it comes to engineering, manufacturing and selling commercial water and space heating products to meet the various demands associated with decarbonization or electrification-focused policies," explains Eric Truskoski, vice president of administration and government affairs, Bradford White Corp. "First, we have to look at the policies themselves to understand the standards that have been set and the kind of equipment that will be needed. Our regulatory and government affairs team is deeply involved in this process and works closely with industry organizations and national and state lawmakers to consider practical clean energy policies. From there, our engineering, purchasing and manufacturing teams step in to design and manufacture products that not only meet energy and other standards, but also account for the challenges of the field. And this is where policy and practicality sometimes don't necessarily align, especially when you look at the current power infrastructure and building designs."
For example, Truskoski notes, when trying to retrofit a natural gas or propane system with an electric one in most cases, it's far more complicated than a simple product swap out.
"Additionally, communication and training are critically important as sometimes specifying engineers and contractors are entrenched in their day-to-day work under the current regs and product environment, that they are caught off guard when they are forced to make an abrupt switch in terms of the product scenarios they have been dealing with for years," he adds. "Bradford White is deeply committed to this part of the process as well and we use our manufacturer reps, field staff and training resources to keep customers informed and work with them to provide solutions to meet their needs."
Sridhar (Sri) Deivasigamani, founder and CEO of Intellihot, agrees that government efforts to reduce the reliance on natural gas is the strongest driver of electrification.
"Coupled with recent geopolitical events and macro-economic conditions, commercial properties have recognized the need to switch to electric water heating options," he notes. "We've made a significant bet on electrification. Policies and incentives in 'blue states' today will help us cash in on that bet. We believe 'red' and 'purple' states are not far behind, too. We see many plumbing engineering firms working towards electrification in multiple states. Once such engineers become familiar with the benefits of our units, and the applicable incentives they qualify for, Intellihot's products often top their recommendation list."
Matt Schulz, A. O. Smith senior product manager, commercial, says A. O. Smith's regulatory team closely monitors what regulators and policymakers are doing in regards to codes, mandates and rebates and incentive opportunities in order to stay ahead of market needs and develop new technologies and products.
"We're seeing growing interest in heat pump water heater technology from our commercial customers and the engineering community," he says. "We are in the early stage of growth for this type of product in the commercial category. During this time, we are getting customer inquiries on what products are available and asking for application support with product selection and sizing. This trend is being driven by a number of factors, including customer demand and changing regulatory requirements for both commercial and residential installations. What started as a regional interest in a couple of states is now expanding to more markets. We anticipate this trend to continue.
"We are also unique from many of our competitors in that we plan to offer different product platforms to give customers more options to best meet the job's needs," Schulz adds. "We do not believe a one product approach will be the best solution for our customers and are working to bring new product platforms to market to meet the growing demand."
Cain White, director of commercial product management at Mitsubishi Electric Trane HVAC US (METUS), also believes the market is moving toward wider adoption of all-electric heat pump technology.
"According to the U.S. Energy Informational Administration, domestic hot water (DHW) is a significant energy expenditure," he says. "It accounts for roughly 25% of annual energy usage in the average multifamily building. State and city regulations — like natural gas bans — and changes in construction codes are other contributors due to the demand for all-electric commercial water heating."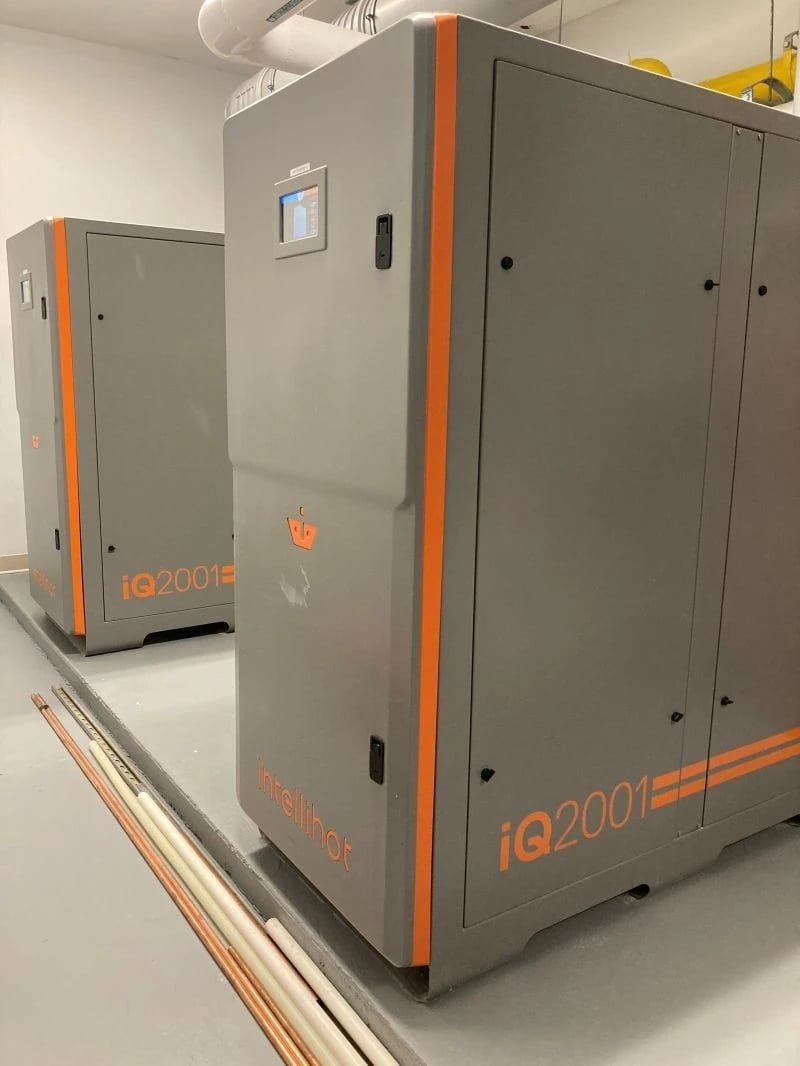 Intellihot tankless water heaters are installed in a Long Island, New York senior living facility.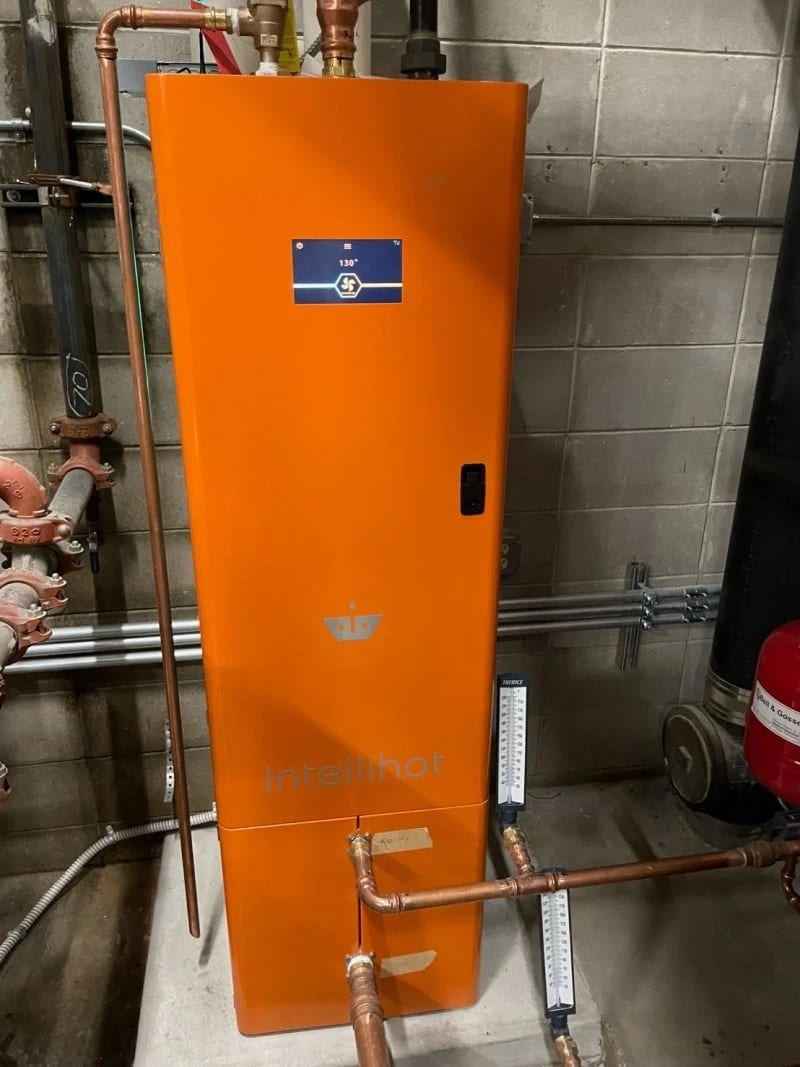 Intellihot tankless water heaters are installed in a St. Cloud, Minnesota elementary school.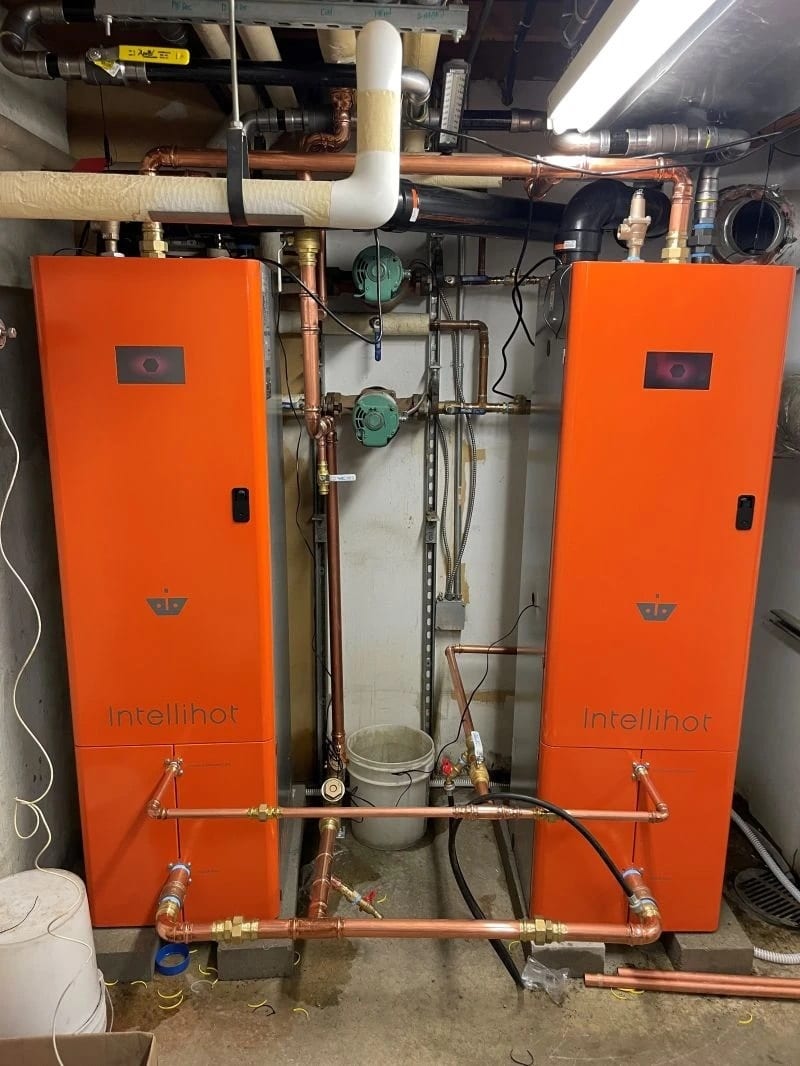 Intellihot tankless water heaters are installed in a Groton, Massachusetts restaurant.
Ready or not?
According to Dustin Wiggins, Lochinvar segment development manager, heat pump water heaters will continue to grow in popularity, especially in the commercial space. "In addition to state legislation and local mandates promoting electrification, many businesses are establishing their own sustainability goals. Because of this, we're seeing a rapid shift in the demand for HPWHs coming directly from customers."
However, that doesn't mean utilities across the country are capable of handling the additional load from all-electric space and water heating.
"It will take time to enhance local electrical grids to support the shift to greater electrification, but there are many things we can do right now to aid the transition," Wiggins adds. "To support the transition, it's essential to increase efficiencies on traditional gas-fired water heaters and boilers and offer hybrid systems with gas backup so the grid transition can be as smooth as possible."
Truskoski notes that many grids around the U.S. have numerous challenges already just to keep up with current demand. "The grids in these locations are already strained and lagging behind demand with a summer peak expected. The future electric demand based on many recently passed and proposed regulations will significantly increase the draw on these resources, especially during winter."
Product availability and affordability are also a concern, Truskowski points out.
"Manufacturers need to invest in and build out new resources to have the required electric products available in mass while still producing their current lines," he says. "And once these products hit the market, the cost based on current design and materials is going to be higher than what consumers are used to. Combine the increased product costs with increased electric bills and that is something that the market is not ready for."
While the transition obviously can't happen overnight, the process is currently underway, Schulz notes.
"The transition to all electricity presents significant challenges from physical infrastructure and electricity grid modernization to funding and consumer awareness and acceptance," he says. "We support a stepwise approach to meeting electrification goals. This includes allowing the use of condensing gas products in applications where all-electric is not practical. Hybrid systems are one approach where the building would have a heat pump water heater and a gas condensing model as well. The heat pump could run during off-peak times while the condensing gas would be available during electrical peak usage times and when faster recovery is needed."
There is also the consideration on whether the project is retrofit or new construction, White notes. "Some buildings may require a power supply upgrade, not only for heat pump technology, but also for EV chargers for example. While new construction can be designed for heat pumps from the onset."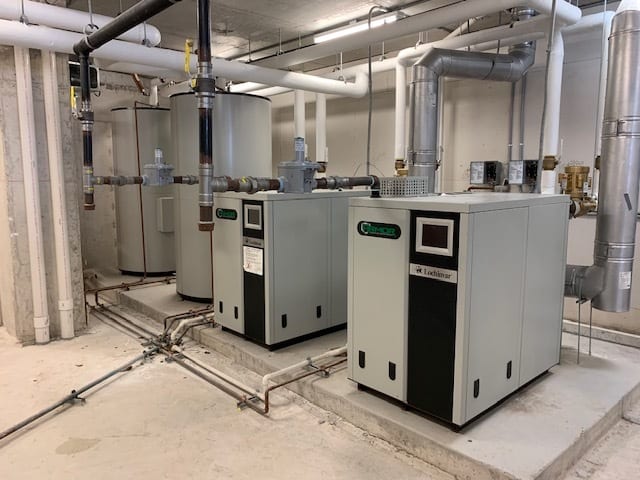 Both A. O. Smith and Lochinvar are focusing a lot of research and development efforts on commercial water heating technology.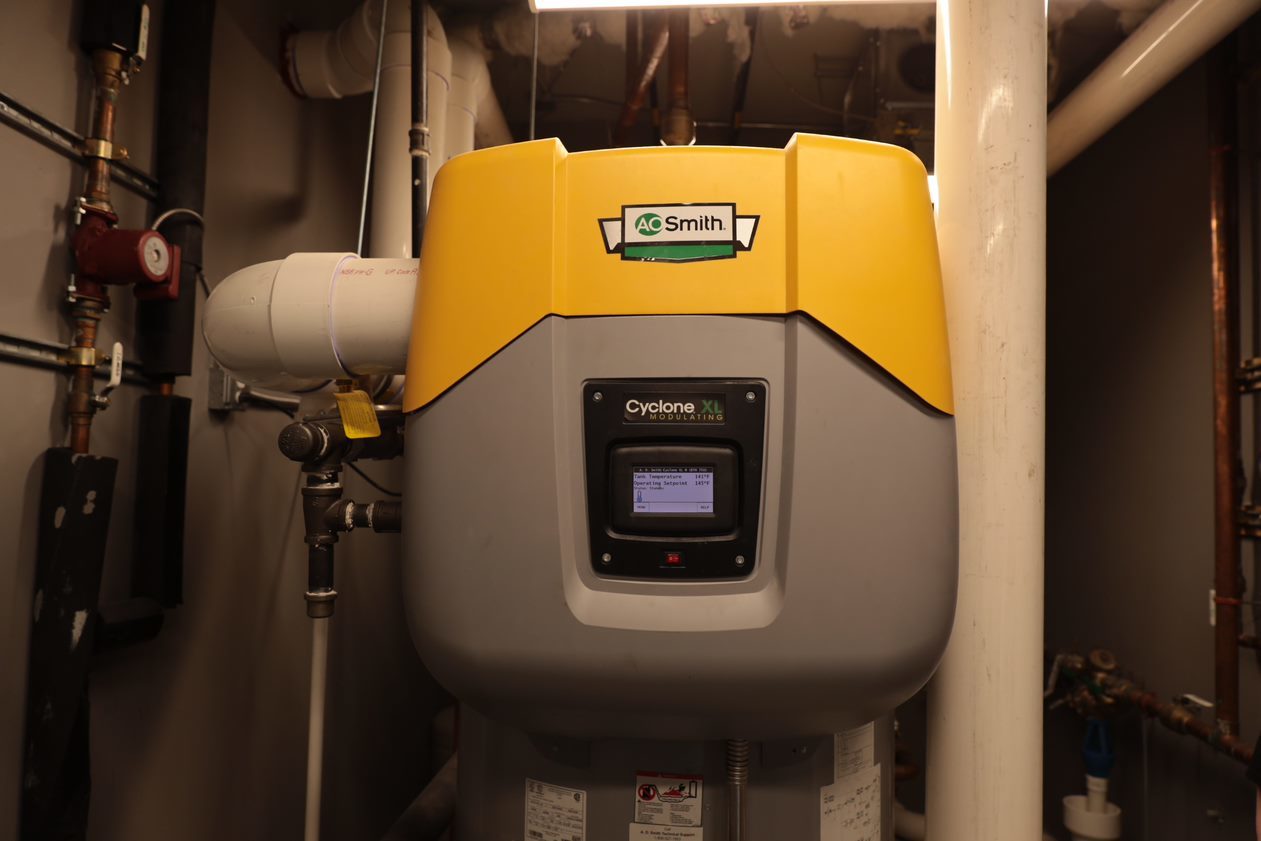 Both A. O. Smith and Lochinvar are focusing a lot of research and development efforts on heat pump water heater technology, which uses electricity instead of burning fossil fuels.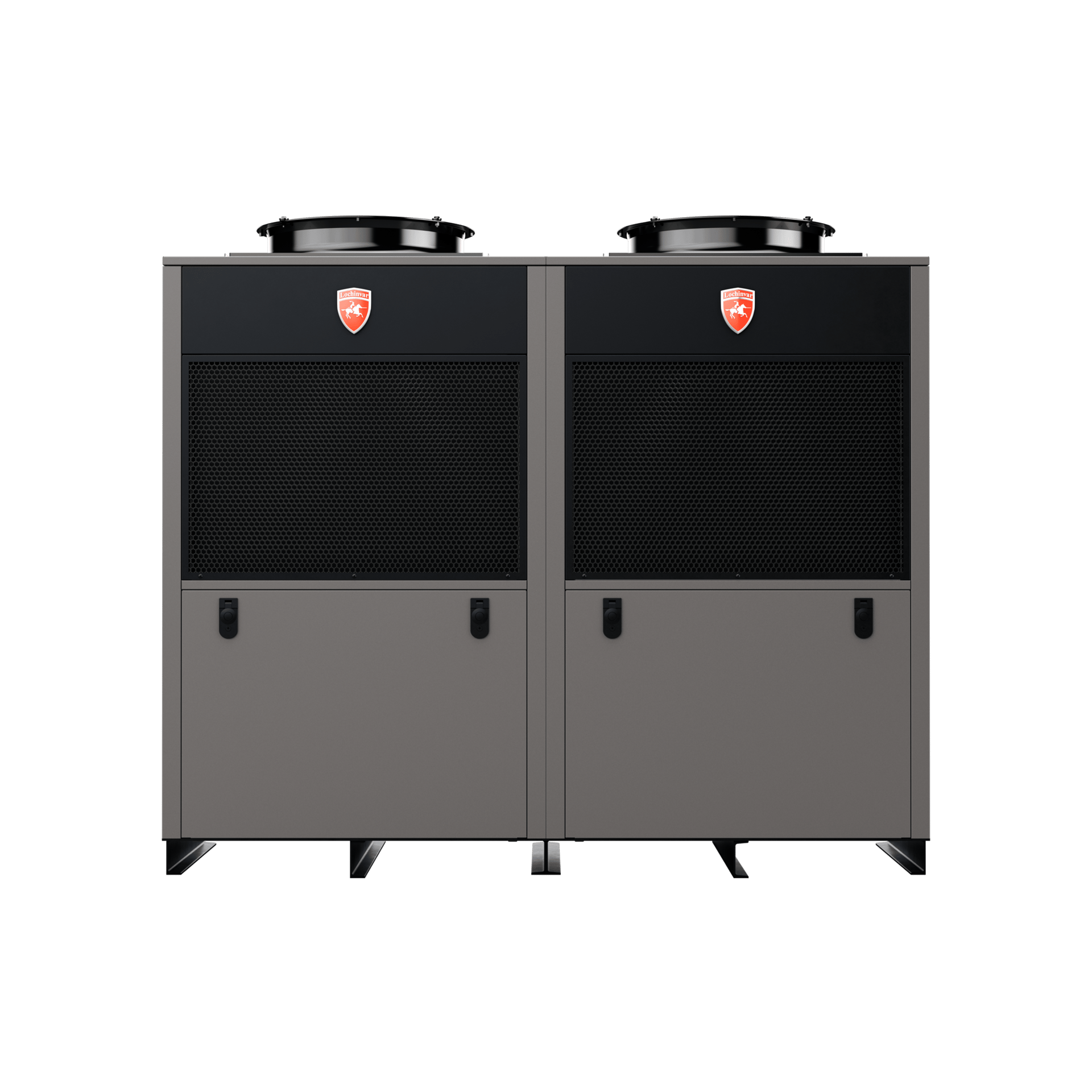 Both A. O. Smith and Lochinvar are focusing a lot of research and development efforts on heat pump water heater technology, which uses electricity instead of burning fossil fuels.
Market growth
Dennis DeBlock, director of commercial sales — wholesale for Bradford White, explains that while some markets are starting to push for retrofits through regulation, most are still being done by choice.
"New construction jobs, especially multi-family, continue to be very prevalent, and, despite high interest rates, seem to be on track to continue through the summer," he says. "Traditional commercial water heaters are still the preferred product for new construction with specifiers leaning towards high-efficiency gas or a bank of heavy-duty electric tanks; however, with so many new products on the market, engineers are starting to specify new technologies more than ever before. As regulations begin to force retrofits, installers will be looking for the best fit for what they are replacing which, unfortunately, with heat pump technology and some others, can require significantly more space than the system before it. This will be an ongoing challenge that the industry will have to address."
Wiggins says Lochinvar continues to see healthy growth in retrofit markets for its core water heating products; however, as the trend toward heat pumps accelerates, new construction growth is expected to see an uptick.
"Tanks and tank-type water heaters will continue to be an important part of retrofit construction," he says. "It is less expensive and less total investment to replace with like-style products. However, as the demand toward efficient operation with reduced power consumption, 'clean' energy and 'green' infrastructure, there is more reason and persuasion to retrofit with more energy-conscious options over the traditional water heater."
Deivasigamani notes that since the retrofit market is projectable, with consistent source of activity, that is where Intellihot sees stable growth, meanwhile, the new construction market tends to fluctuate based on the health of the overall economy.
"Yet, both are strong right now. To capitalize on the replacement market, all our units are designed for simple and quick installation. With the reduced space needs of our tankless units, engineers love to spec our units into new construction, allowing them to conserve space allocated to mechanical systems. Both markets offer building owners the opportunity to cash in on government incentives.
"Inertia is a powerful force," he adds. "When a legacy boiler with a 1,000-gallon storage tank inevitably fails, many engineers resort to a like-for-like replacement. A key challenge for Intellihot involves encouraging engineers and contractors to re-spec properties. Doing so informs them of better, more efficient tankless choices that would not have existed at the time of the original legacy installation. It is tough to believe that our largest unit can fit in a service elevator, provide 3 million Btu/h and replace a 1000-gallon tank while saving up to 40% in energy bills."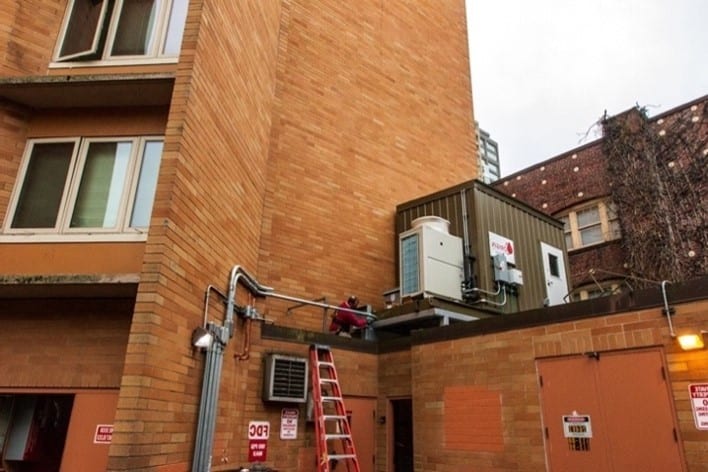 METUS H20 all-electric heat pump water heaters are designed to product high volume DHW for commercial facilities in any climate. Using CO2 refrigerant, Heat20 has a GWP of one, providing a reduced carbon footprint.
Design considerations for engineers
According to Aaron Siegel, director of sales — commercial for Bradford White, the company places a great deal of focus on engaging with MEP engineers to aid them in the specification process and educating them on new and existing products and innovations.
"We also offer a variety of training options including in-person, virtual as well as a library of interactive online training materials and continuing education courses," Siegel says. "An extremely important part of the specification process is sizing. Bradford White has developed RightSpec, a dynamic user-friendly sizing tool MEP engineers can easily use to assist them in specifying the correct water heater for any building type. Special attention has been given to providing a variety of options the user can plug into the tool's calculator to more accurately size water heating needs, like water conserving fixtures and diversity usage."
Schulz notes that in addition to product performance specs, it is now more important than ever to consider the manufacturer and the support it will provide. "In an evolving market, there will always be new players entering the segment. When specifying A. O. Smith, an engineer knows they have the support of a 150-year-old company focused on providing both the best products and product support."
A. O. Smith University also offers both in-person and virtual classes tailored to the needs of MEP engineers, he adds. "As we introduce new products and technologies to the market, we simultaneously update our educational offerings to ensure that engineers are well-equipped to specify our new units. In addition, we are adding staff to support assisting with sizing questions as well as updating our online sizing program with new product selection options."
Lochinvar University also provides practical guidance in areas such as correct sizing and installation.
"We also offer a variety of bite-sized on-demand resources like video tutorials and digital simulators through LochinvarU.com," Wiggins says. "When MEP engineers are considering any of our products, Lochinvar has the best-in-class training, education and sales support to be a partner in all designs."
White explains that it's important for engineers to understand that when considering heat pump water heaters for commercial buildings, they can't just look at the heat pump itself. "With commercial heat pump water heater systems, you must have space for an additional volume of stored water. Buildings can use that stored water like a battery storing all the energy for the building to produce hot water in a 24-hour period."
He adds that METUS is networked with local engineers and distributors, educating them on the design of its system.
Deivasigamani agrees that specifying a tankless water heater works differently than a tank-type product.
"Specifying heat pump water heaters presents even more complexity and is not as one-dimensional as traditional, gas-fired boilers," he notes. "Using real-world data and advanced predictive models is the only way to ensure accurate results. Fortunately, we are close to launching our updated sizing calculator which will be more comprehensive. Using AI-powered simulation and modeling, our new calculator will provide MEP engineers with a confident tool to size our heat pump water heaters. They will also get guaranteed results and remuneration for additional equipment if demand is not met."
He adds that Intellihot is on the forefront of training, and the company plans to continue that initiative. The company launched a dedicated training truck last year that is currently making stops across the country. The custom-outfitted MT55 Freightliner features a functioning commercial tankless water heater plus six other units that can be completely disassembled for in-depth, hands-on training.
"Technology in this space is evolving quickly," Deivasigamani says. "So, I encourage MEP engineers to embrace change. Sometimes, engineers assume that compact energy-efficient products won't be able to handle high hot water demands since they are used to thinking 'bigger is better.' After 14-plus years of manufacturing and maintaining our products — many still in service from our first installs — I think we can safely say that bigger is not always better."
Nicole Krawcke, is chief editor of PM Engineer.