Each year, PM Engineer editors receive thousands of product releases from industry manufacturers. The 20 products highlighted here have earned the distinction of being PM Engineer's Top Products of 2022 based on the number of page views on www.pmengineer.com. Congratulations to those products on this year's list.
Taco Comfort Solutions booster pump packages
Taco's new and improved fully integrated domestic water booster systems are the ideal pressure-boosting solution for multi-residential and commercial buildings. Each system comes with a range of features and benefits exclusive only to Taco, including an integral controller in every drive that offers complete built-in redundancy and minimizes downtime. A grooved pipe coupling between pump and header permits greater design flexibility and minimizes installation and maintenance time, Taco notes.
Plate 097. Leveling Shim Kit 096 prevents standing water on top of snow/ice sensors by making them flush with the surface of a slab. It consists of two shims of 1/8" and one shim of 1/4" to be placed over the socket to allow height adjustment. Spare Socket Cover Plate 097 provides a spare socket location for future snow/ice sensor installation or expansion of the snow melting system. The cover plate is made with brass, which provides a long-term solution to cover and protect a spare socket used in driveways and walkways, the company explains.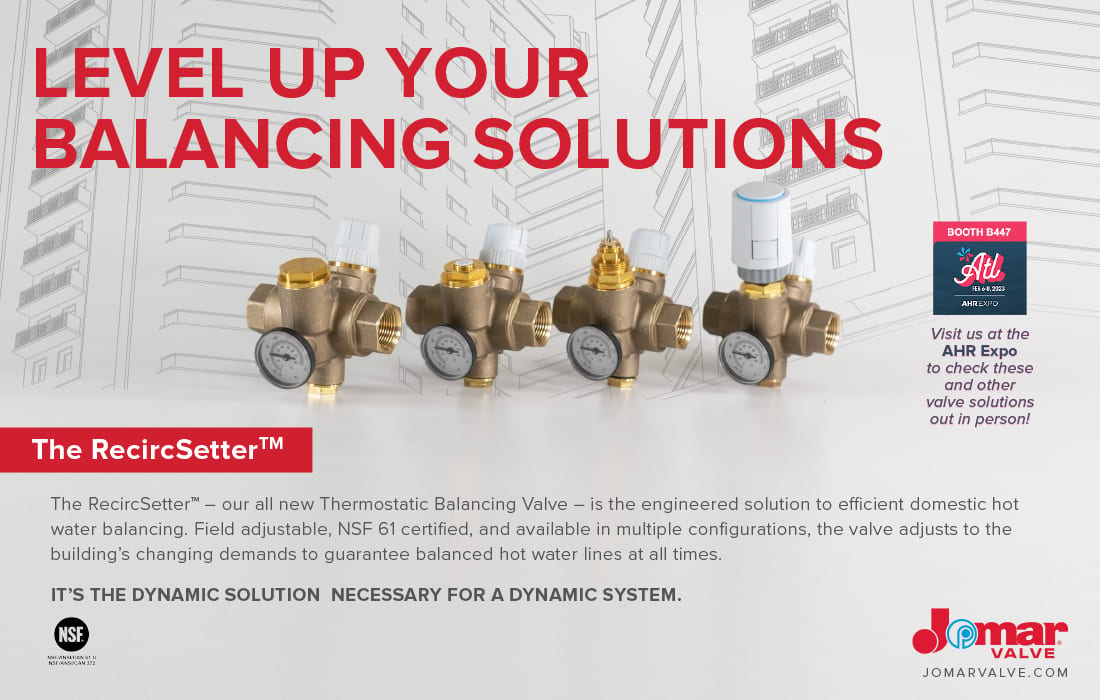 Noritz America hard water treatment solution
Tankless water heater manufacturer Noritz America recently released an updated version of its revolutionary hard water-treatment product, Scale Shield. The original Scale Shield aids in preventing the buildup of hard water minerals while eliminating the need for a water softener. The updated Scale Shield is sold in a kit (SS-HB-3) via wholesaler-distributors or on the Noritz website and includes a wall bracket, wrench, lubrikit, pressure gauge and one HBC-3 cartridge. Individual cartridge replacements can be found on the website as well. The Scale Shield kit also holds a 12-month warranty for parts only.
Weil-McLain's 95% AFUE high-efficiency ECO Tec boiler features heat only and combi versions for all residential space and domestic hot water heating, the company explains. It features a durable stainless steel fire tube heat exchanger with sound-dampening air silencer, corrosion- resistant condensate collector base, built-in zone control, easy-to-use setup wizards and touch screen display.
A. O. Smith hybrid electric heat pump water heater
The Voltex AL (anti-leak) hybrid electric heat pump water heater brings to market a water heating solution with integrated leak detection, smart connectivity and updated water connections for professionals and homeowners seeking a highly efficient, intuitive and user-friendly product. It features the highest overall Uniform Energy Factor (UEF) of 4.02 with the 66-gallon unit and the highest 50-gallon UEF at 3.8, the company says. It is also available in an 80-gallon model. The unit can save homeowners up to $521 per year on utility bills when compared to a standard electric water heater. ENERGY STAR certified, the product also allows homeowners to take advantage of rebates and tax credits for additional savings.
GF Piping Systems ductile iron fitting
The new LOKX System Ductile Iron Fitting from GF Piping Systems features an internal self-restraining gasket that eliminates pipe-to-pipe and pipe-to-fitting separation, even at high pressures. The push-on style fitting eliminates the need for any bolts or assembly tools, saving up to 80% in installation time and labor costs, the company says.
HTP electric water heaters
The 55-gal. Everlast Elevate electric storage water heater was developed as an innovative solution to federal regulations imposed on light-duty electric tank-type water heaters with storage capacities larger than 55 gallons. Elevate water heaters offer the highest heat output and greatest recovery rates among all water heaters in the 55-gal. size, industry-wide, the company states.
Thermomegatech cold water balancing valves
CircuitSolver, a ThermOmegaTech brand, announced its CircuitSolver Cold Water Balancing Valve (CSU-CW). The CSU-CW is a dynamic valve designed to automatically balance cold water recirculation systems utilizing the same reliable and precise thermal actuator technology as the original CircuitSolver for balancing recirculating hot water systems, the company says. The valve will effectively mitigate the risk of Legionella bacteria growth in a domestic cold-water system (DCWS) by continuously monitoring water temperatures and modulating flow to maintain a set temperature at the end of each branch or riser, the company adds.
Bosch Thermotechnology singular combi boilers
Bosch singular combi wall boilers provide efficient heating and hot water for residential applications. Depending on inlet water temperature, the 4000 model can run between two and three showers. The 5200 can run three showers plus a dishwasher. Both models are compact and under 80 pounds, making installation a breeze.
Trane air-to-water modular heat pump
The Trane Thermafit air-to-water modular heat pump Model AXM is a fully electric modular unit that owners can scale to match a building's heating or cooling load. By combining individually controlled AXM modules to create a single, larger heat pump, operators can right-size heating and cooling performance to meet a wide range of applications. Each module is capable of 30 tons of cooling and 390,000 MBtu/h of heating and is expandable to generate up to 300 tons of cooling. Dual refrigerant circuits on each heat pump provide precise temperature control. Controls with open standard protocols that seamlessly integrate with Tracer SC+ and third-party Building Automation Systems (BAS).
A. O. Smith scale prevention technology
A. O. Smith announces the addition of X3 scale prevention technology to its full line of residential condensing gas tankless water heaters. Designed with both consumers and contractors in mind, X3 Technology prevents scale buildup in a tankless unit, eliminating the need for routine descaling maintenance, tripling the expected lifetime of a unit and enabling it to run at like-new performance and efficiency. X3 Technology means the end user never has to descale a tankless water heater again – alleviating maintenance time for contractors and reducing ownership costs for homeowners. The units use up to 199,000 Btu/h of natural gas to deliver a continuous supply of hot water to residential applications, A. O. Smith points out.
Rheem Commercial heat pump split system
With increased electrification and greater energy efficiency, this unit from Rheem is built for large-scale commercial applications where a large amount of potable water is needed at usable temperatures. Up to a 75% reduction in energy use and carbon footprint is achievable as this ENERGY STAR certified model meets decarbonization qualifications, Rheem notes.
Jones Stephens PEX-A piping solutions
Jones Stephens introduces PEX-A plumbing solutions, a comprehensive offering including PEX-A pipe, as well as F1960 cold expansion and F1807 and F2159 crimp-style fittings. Jones Stephens' PEX-A pipe is available for potable water and oxygen barrier applications. Red, white and blue colored coils and sticks are available to meet specific installation needs. Jones Stephens' PEX-A piping system solutions are certified and approved to meet industry standards and are manufactured with the highest-quality materials, the company notes.
Bradford White tankless electric water heater
Bradford White's KwickShot is a reliable and easily installed tankless electric water heater available in thermostatic and non-thermostatic models to meet a range of water temperature needs in a variety of everyday applications, the company explains. With on-demand hot water and continuous water flow, KwickShot ensures hot water is instantly available for kitchens, bathrooms, utility sinks, wet bars and other household needs. KwickShot offers speed and reliability combined with premier high performance, Bradford White adds.
Navien condensing tankless water heater
Navien's NPE-2 condensing tankless water heaters include a turndown ratio up to 15:1, advanced EZNav multi-line control panel with Setup Wizard, and 2" PVC venting up to 75'. The NPE-2 continues to offer dual stainless-steel heat exchangers, half-inch gas pipe capability up to 24' and patented ComfortFlow recirculation system with built-in pump and buffer tank (NPE-A2).
Napoleon Heat pump/air handler series
Napoleon's NS18 heat pump and air handler series is an all-in-one heating and cooling system for year-round comfort—100% heat in the winter and 100% cool in the summer, the company states. The heat pump features a variable inverter compressor and vapor injection technology. It also operates on electricity, helping reduce the carbon footprint without sacrificing comfort and reducing energy costs, the company adds.
Rinnai tankless water heater
With the improved SENSEI RSC Condensing Tankless Water Heater, Rinnai delivers the same superior quality with simplified installation, the company says. Featuring Smart-Circ Intelligent Recirculation, external controllers are not required to set up recirculation. Instead, Smart-Circ "learns" users' hot water patterns over a seven-day period, then schedules recirculation patterns accordingly.
Fujitsu General America split terminal heat pump
Designed as a direct replacement for PTAC units often found in hotels/motels and high-rise residences, Fujitsu's STHP (Split-type Thermal Heat Pump) is a combination indoor unit/condensing unit that fits the sleeve of a PTAC, offering higher efficiency, quieter operation, greater comfort and simplified maintenance, the company says. The systems provide heating and cooling, even with outdoor temperatures as low as 5° F. Available in 9,000 and 12,000 Btu/h capacities, the STHP offers up to 21.3 SEER performance.
Mitsubishi Electric Trane HVAC US electric hot water heating system
Mitsubishi Electric Trane HVAC US announces Heat2O, an all-electric domestic hot water heating system designed to improve sustainability and reduce energy consumption in multifamily buildings and large-scale commercial facilities. The Heat2O heat pump water heater (QAHV-N136TAU-HPB(-BS)) reduces the environmental impact of DHW through energy-efficient operation while using CO2, a natural and environmentally friendly refrigerant with a global warming potential (GWP) of one and an ozone depletion potential (ODP) of zero, the company notes.
Apollo Valves stainless steel press fittings and valves
Apollo SmartPress is an innovative press system designed for joining 1/2"-2" ASTM A-312 schedule 5/10s stainless steel pipe (304/304L and 316/316L). Apollo SmartPress fittings and valves offer end-users a complete solution with maximum coverage of applications requiring HNBR, EPDM or FKM sealing elements for operating pressures up to 500 psi. Unique features including color-coded press indicators, patented sealing elements and silicone-free production make Apollo SmartPress the 'smart' choice.